There is no doubt that outdoor camping with family members, friends, and relatives can be a great experience. However, you need to ensure that you have the right accessories and tools for the purpose. There are many things that go into making a complete camping list. I've looked into some of the most popular camping stoves I could find.
You must spend time to ensure that you choose the best camping stove. With no fuel source available, there is no doubt that a good hiking stove is of paramount importance. However, with so many options being available, making the right choice is not easy. You must have reasonably good knowledge and information before you decide to pick up the right camping gas burner.
In many cases, you may need to carry more than one. Hence, it would be a good idea to understand some basics about these stoves. This certainly will help you to choose the best backpacking stove that could offer you peace of mind, and of course good value for money. I am happy to list down some seven different makes and brands of camping stoves so that you have a more than a good idea about the things to be kept in mind while choosing one for their camping and other activities.
1. Jetboil Cooking System
Though Jetboil is not the lightest or smallest cooking system in the market, it sure does have a handy size. It certainly has some exciting and worth-mentioning features. It is known for its speed of cooking and the convenience that it offers. Further, it is available at a price that is quite attractive. Many customers, therefore, feel that it offers them reasonably good value for money. Let us have a look at the main features of the Jetboil cooking system.
Main features
It certainly has been optimized for efficiency. You can boil water in cool temperatures at an astonishing speed of around 100 seconds.
It helps keep the cooked items including boiling water warm for a reasonably long period of time. This is because of the unique FluxRung cup.
Easy to operate with a push-button operating system.
It comes with many compliant accessories like the hanging kit, pot support, coffee press, and skillet amongst other things.
It is perfectly suited for any type of outdoor adventure.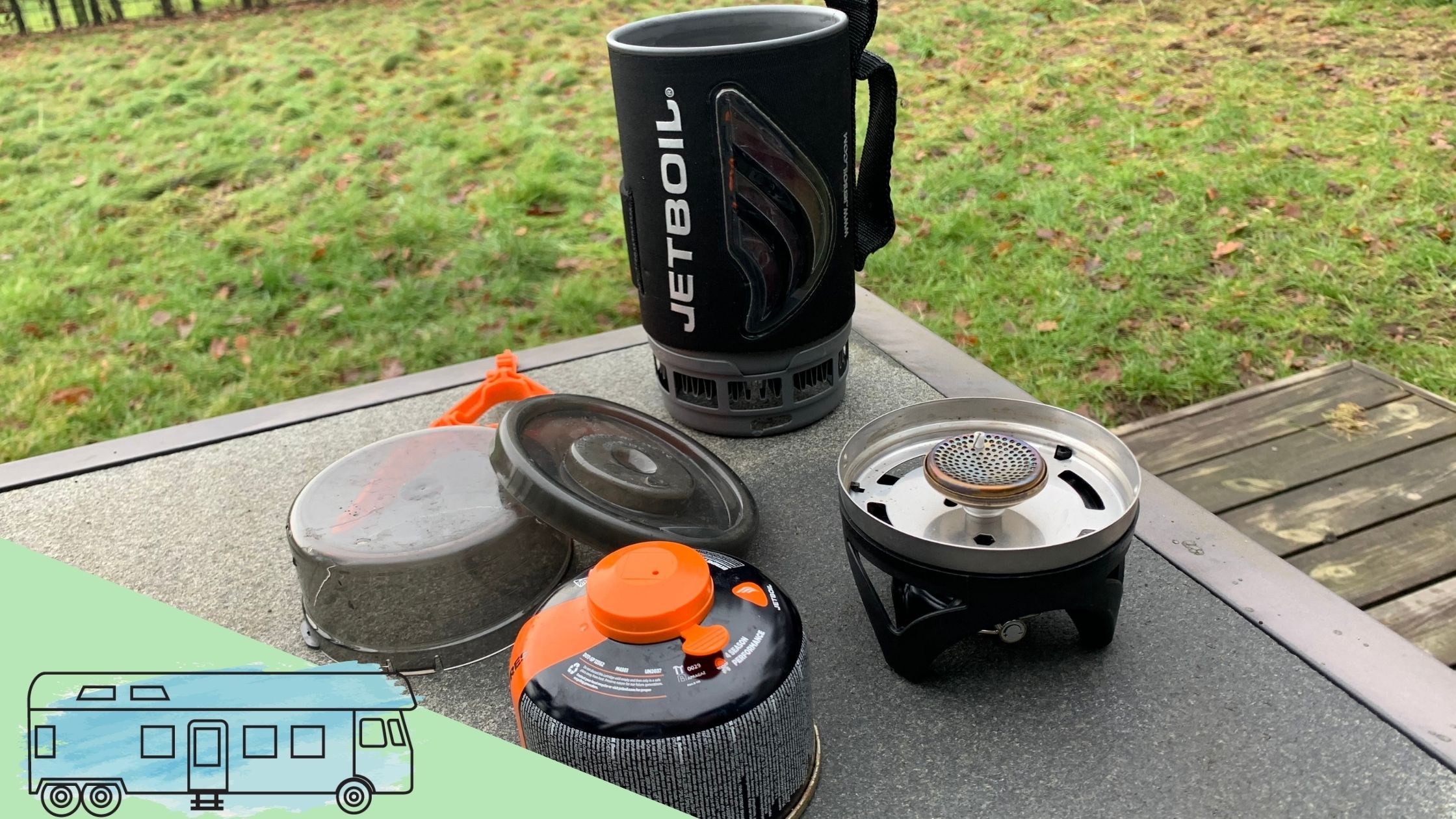 Pros
A perfect combination of looks and performance.
Long-lasting and durable.
Comes with a unique canister stabilizer
Best suited for weekend trips and also for high altitude adventure trips.
Good value for money.
Cons
It is heavy and carrying it around could be an issue for some.
Not the best of after-sales support and services. I haven't had the need for support, but so says the reviews.
2. Trangia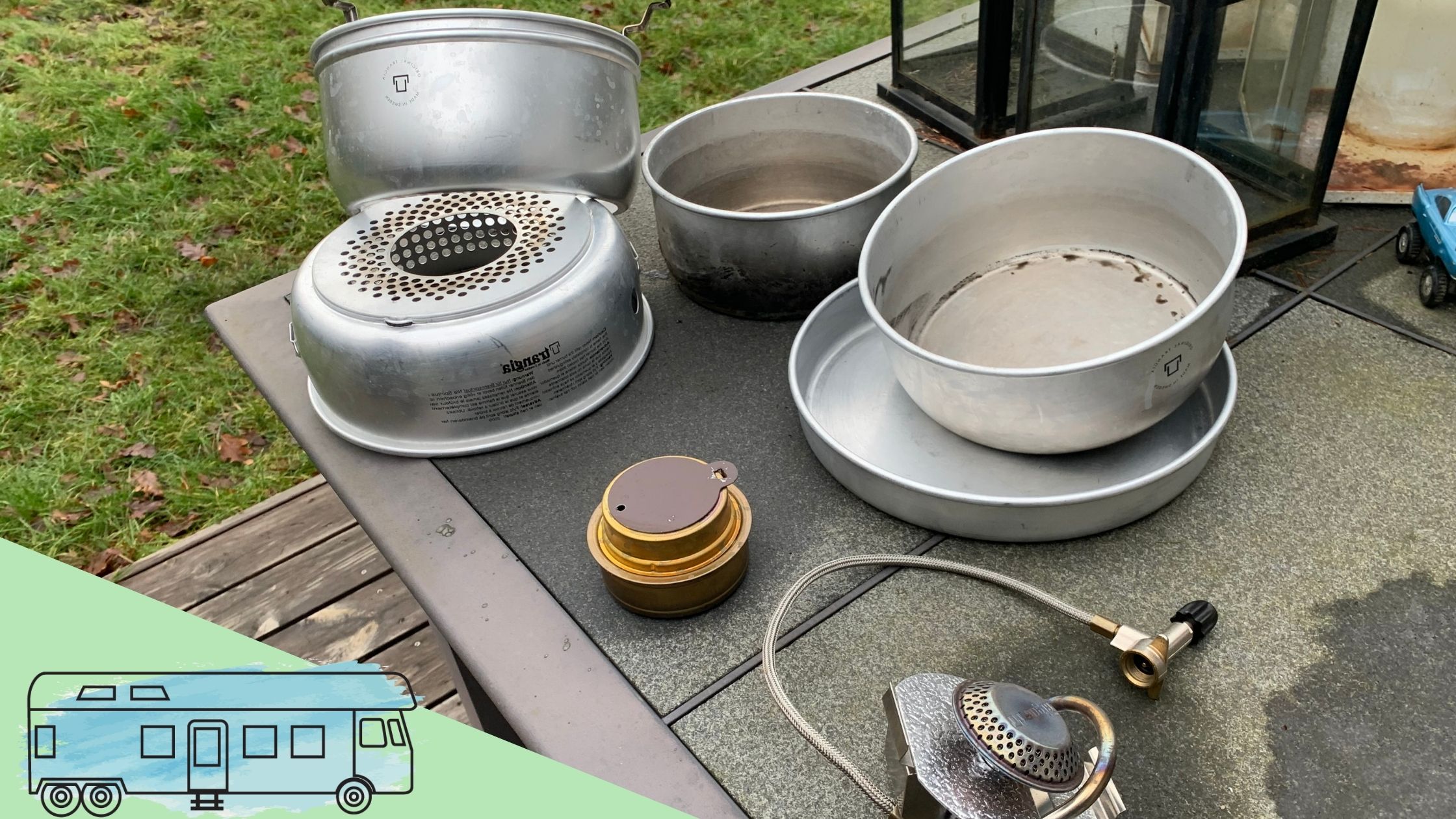 There are reasons to believe that this could be a great value for money spirit stove that has many exciting and innovative features. It comes with a pot stand and it runs on alcohol, camping gas, or tablets. Hence, you can avoid the need for carrying a special type of fuel along with you. It is made from high-quality brass and additionally, there are many more exciting features that set this apart from many other similar stoves in the market.
Main features
It is compactly designed and looks gorgeous in the unset color.
It comes with an overall dimension of 6.2 x 6.2 x 3.6 inches.
It offers a decent energy output of 1000 watts at the maximum.
Lightweight because it weighs just around 0.6 pounds.
1 liter of water should be boiling hot in around 8 minutes (in my test it took 10 min)
It is a storm-proof design and lighting system.
Perfectly suited for outdoor use.
Operating and running cost is low because it runs on methylated spirits and Tenol.
Pros
It is stylishly designed
Easy to carry because of its lightweight
It is a product of years of quality and research
It has been researched and designed in mountains and therefore works quite robustly
Long-lasting, durable with little or negligible maintenance
You get a spirit burner and pot stand as add-ons
Cons
Pot is not very useful.
Transit damages and late deliveries have been reported when purchased online.
3. Primus Firestick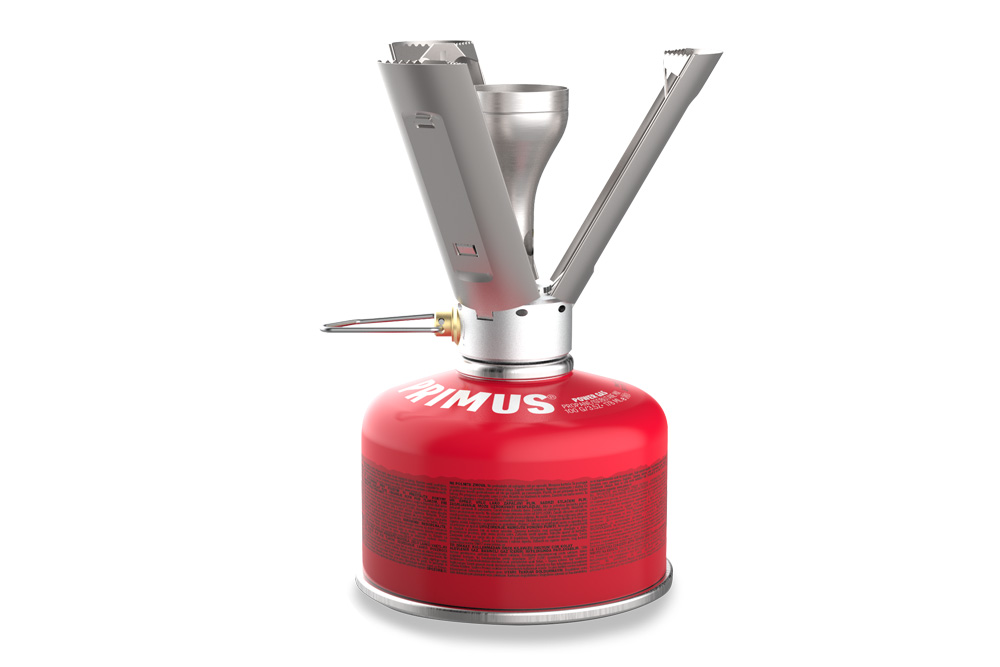 Primus has been around for quite some time now and it has earned the reputation of being one of the most respected and admired manufacturers of camping and other types of stoves. Many customers who have used it are quite satisfied with its performance. They believe that it could be considered as a classic trail backpacking option. There are obviously a number of interesting features and functionalities and we are happy to list down a few of them for the benefit of those who are on the lookout for a quality camping stove.
Main features
It is durable, robust, and reliable. It is totally free from any folding parts and therefore it is ready for use wherever and whenever you want.
It has been designed and manufactured keeping in mind outdoor use.
It offers generous and wide flame. This helps in heating pots and other utensils uniformly and fully.
It is wind-resistant and this adds to the stability of the stove. This is because of the unique 4-point static pot. It is firm and stays in place even in the face of powerful winds and other adverse climatic conditions.
It is often considered to be a classic workhorse and has been around since the 1980s.
It comes with a dimension of around 4.9 inches x 4.9 inches x 3.2 inches, length, height, and width.
It has an output of 10.000 BTU
It works on gas and the cylinder is quite generous and it lasts quite long when it is completely refilled.
Safe for use with no record of any accidents.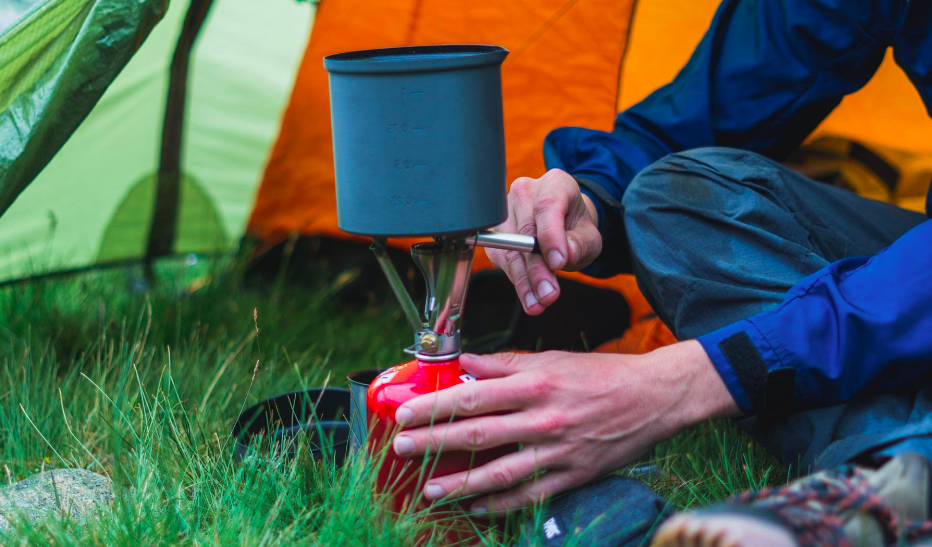 Pros
Ready to use.
Reliable and robust.
Wide flame & easy to use
Durable and long-lasting.
Made from sustainable materials.
Retains taste and nutrition of foods.
Cons
Transit damages have dampened the spirit of many customers.
Some users believe that it has been made of cheap materials.
4. Coleman Fyrestorm
Coming from the stables of Coleman, it is quite obvious that the FyreStorm camping stove could have some exciting and unique features. It is made from high quality synthetic material that is robust, durable, and long-lasting. It is powered and run by LPG (liquefied petroleum gas). It also has a number of other interesting features and we are happy to share a few of them.
You would also need to store some pots and pans, so I've collected 15 cool ideas on how to store pots and pans safely you a camper for you here…
Main features
The stove is compact measuring 4.5 x 4 x 2.4 inches, length, height, and width.
It measures around 0.52 pounds.
The product is the result of the best technology and it results in high-quality cooking.
The design features help in the generation of adequate heat without having to overuse fuel.
One liter of water will boil in 3.25 minutes because it can generate 10,000 total BTUs.
It is lightweight and weighs just around 6.7 pounds or around 190 grams.
Suitable for easy porting and carrying.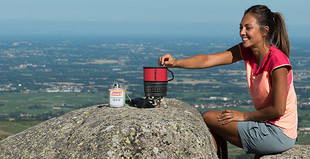 Pros
Perfectly suited for a 6-inch pan.
Helps in fast and uniform heating.
Capable of releasing around 10,000 BTUs.
Lightweight at 190 grams it is easy to carry and port around.
Cons
Fuel ejection is quite rapid leading to loss of fuel.
Installing and making it ready for use could be a pain for a few.
5. Bushcraft Essentials Bushbox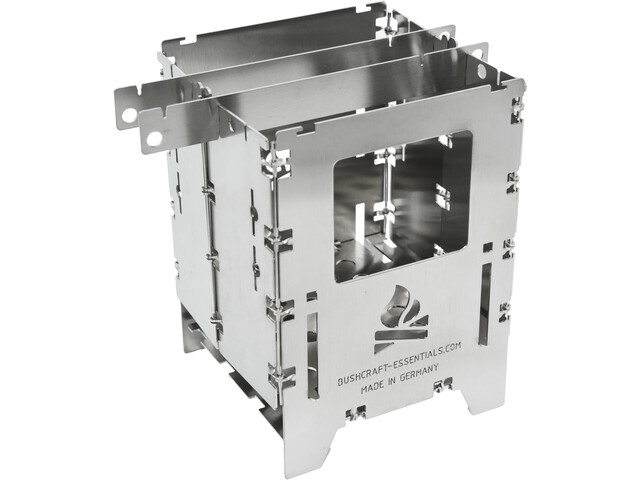 If you want a quality outdoor stove with the right accessories and tools, then you have many reasons to try out the Bushcraft Essentials Bushbox. It is a unique type of camping stove that uses wood as a source of fuel. Hence, you will never run out of fuel and you also need not carry LPG, alcohol, and other heavy stuff when you are out for camping and other adventure sports. The entire product is sold as a bundle and it comes at an attractive price. The bundle includes Bushbox LF, heavy-duty outdoor bag, and universal grate.
Main features
The entire Bushbox stove measures 9.65 x 6.65 x 1.22 inches.
Weighs around 1.32 pounds.
It can be easily folded and unfolded.
Uses wood as fuel which may be liked by many.
It can be converted into an alcohol stove with the insertion of trivets.
Pros
Extremely versatile and flexible.
Can be easily folded and then unfolded within a few minutes.
Generates enough heat to boil water in a few minutes.
Suitable for cooking too.
Compact and neat.
Cons
A few consider that it could be a tad expensive.
6. Aaluo Camping Stove – Portable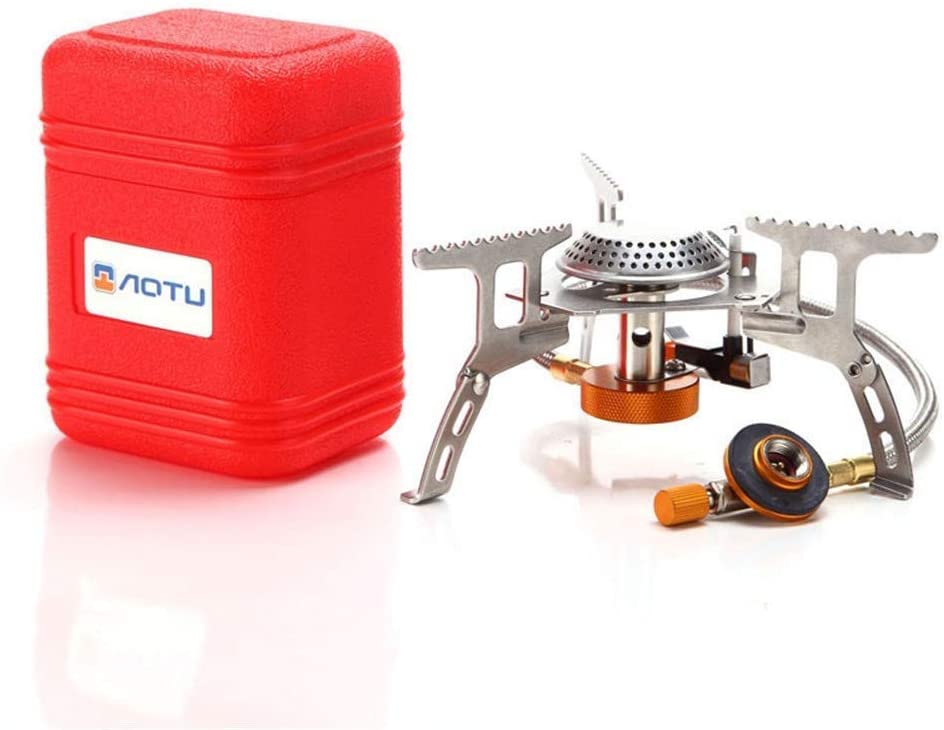 There are many reasons to believe that it could be a quality camping stove. AALUO has a reasonably good reputation for manufacturing quality stoves both for camping and other purposes. It is perfectly suited for travel, hiking, domestic cooking, and camping. It is feature-rich and we are happy to share some of the most important features.
Main features
Made from high-quality aluminum alloy material and stainless steel combination.
It is anti-rust and anti-corrosive.
It is portable and easily movable.
It weighs just 0.6 lbs.
Comes with an adjustable fuel valve for controlled heating and cooking.
It is compatible with most mixed, butane and butane-propane canisters.
Overall packed dimensions are 4x5x8 centimeters.
Pros
Easy to store.
Easy to maintain
Versatile and long-lasting
Suitable for a number of outdoor activities.
Adjustable flow valve.
Comes with piezoelectric ceramic ignition, easy to light.
Cons
Assembling may take some time.
Not durable when compared to other such products.
7. Wadeo Camping Stove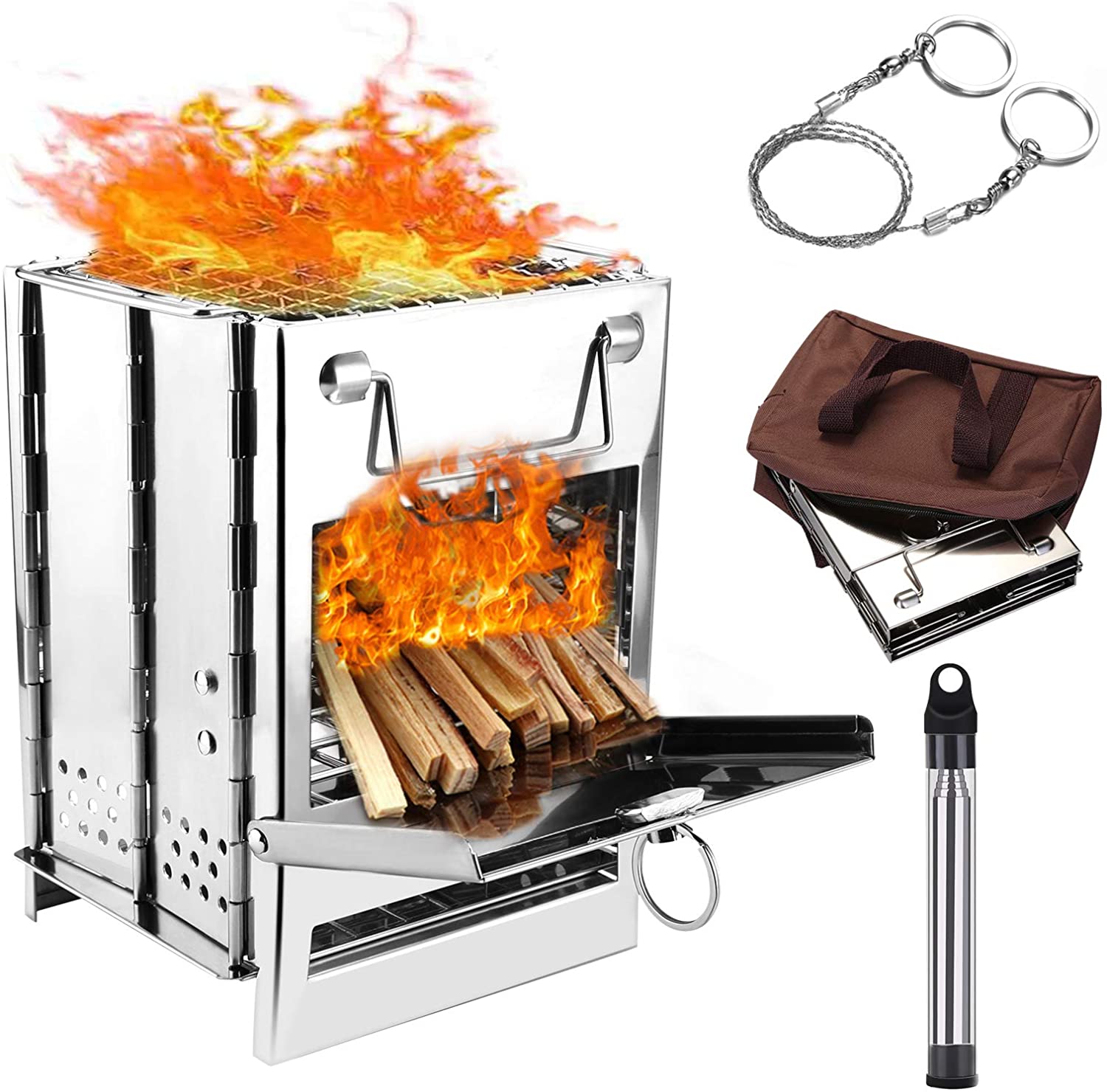 This is a stylish looking, reliable, and high-performance camping stove. It has many interesting and exciting features. These include the famed and tested Piezo ignition and quite a few other takeaways. Here are a few of the interesting takeaways.
Main features
It works both on butane gas as well as mono butane/butane propane.
The piezoelectric ignition is a big takeaway. The stove lights on a simple activation of the ignition switch.
Made from durable stainless steel material. It is resistant to wear and tear and can withstand oxidation quite effectively.
Foldable and portable.
Pros
Works on two different types of fuel.
Changing adapters for fuel types is not a headache.
Rust and corrosion-resistant.
Made from high-quality stainless steel.
Good value for money.
Cons
The control knob malfunctions occasionally.
Otherwise a good buy.
Conclusion
We are sure that we have been able to give a reasonably useful and informative insight about seven different makes and models of camping stoves. There are many options to choose from and if you are good at seeking information and getting knowledge, you should not find it too difficult to choose the right one taking into account your specific needs and requirements.